Cranbrook, BC (November 8, 2022) -- With the return of the winter weather to Cranbrook, there is great need for volunteers to be part of the Snow Angels program organized through Canadian Mental Health Association Kootenays.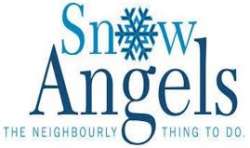 Snow Angels is a program that places volunteers with those in need to help remove snow and ice from sidewalks, driveways and walkways in order to improve public mobility and safety during the winter months.
Snow covered walkways and driveways make it difficult for those with mobility issues to navigate outdoors safely. Keeping sidewalks and driveways clear of ice and snow also ensures safe, easy access to homes for grocery and package deliveries, medical visits, mail service and emergency services, if needed.
"The number of seniors or other community members needing help clearing snow has far outnumbered the volunteers we've had available, over the past several years," says Charlene Turner, Volunteer Services Manager with Canadian Mental Health Association Kootenays (CMHA).
"Volunteering your time helps build community. It does so much to help you create that feeling of pride in being able to help your neighbours, but the deep appreciation you get in return from those who you help is a wonderful feeling, too," Turner adds.
If you are able to volunteer your time to help with this great program, or if you are in need of some help clearing your snow, please call CHMA Kootenays at 250-426-8019 or email [email protected].