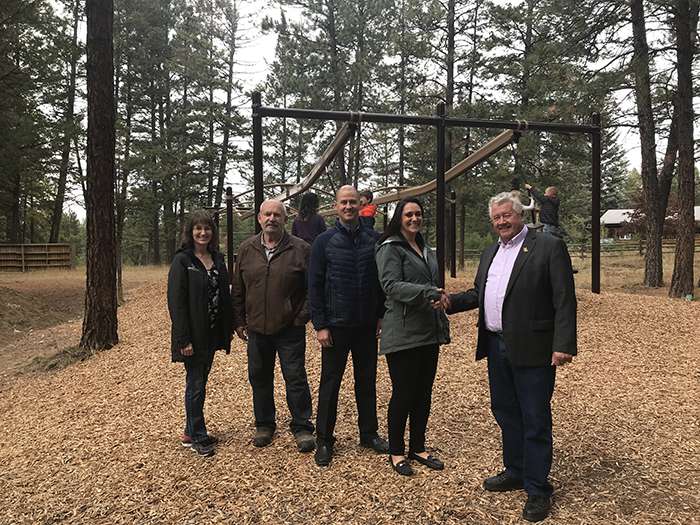 (Left to right): Leanne Jensen, Rotary Club of Cranbrook; Bill Bennett, President Cranbrook Rotary Club; James Hall, Western Financial Group Regional Manager in the Kootenays; Sarah Vanlerberg, Western Financial Group Branch Manager; Mayor Lee Pratt. Photo: City of Cranbrook.
Cranbrook, BC (October 17, 2019) – The new double-track zipline has quickly become a destination in and of itself at Idlewild Park since its installation earlier this fall, thanks to two key organizations – Western Financial Group and the Cranbrook Rotary Club.
With an overall budget of $65,000, Rotary donated $35,000 and labour to assist with the installation, Western Financial Group donated $10,000 and the City covered the remaining costs of the zipline project.
"We have a charitable arm called the Western Communities Foundation, and through that foundation we are able to access grant money to help in community projects, wherever there is a Western branch. We won this grant recently, and wanted to support the Idlewild Revitalization project," says James Hall, Regional Manager for Western Financial Group in the Kootenays. "We know Idlewild is important to the community and so it's important to us and we wanted to be part of supporting it. We know the zipline is popular, the Rotary Club was working on that and looking for some additional funding, so we thought let's piggyback on that."
"I'd like to say thank you to the Western Financial Group on behalf of the Rotary Club and the whole community. Without their $10,000 we certainly wouldn't have had the second zipline at Idlewild," says Bill Bennett, President of the Cranbrook Rotary Club. "We probably wouldn't have had the first zipline either. We really needed that cash contribution to make the project go, so we're very appreciative of their donation. Western Financial Group has done lots of good things in our community over the years."
"This is a great example of community groups coming together in the name of a great community project like the Idlewild Revitalization project," says Mayor Lee Pratt. "Thank you to everyone and each group involved."
Initiatives like the overall Idlewild Revitalization project is one that has many community groups stepping forward to achieve improvements to the area, over the past three years. The contributions made by so many has been significant, in that the timeline of the overall revitalization of Idlewild – expected to take three to five years to complete has been shortened to three years.