Cranbrook, BC (January 23, 2018) -- Work continues throughout the winter months on the upgrades to Idlewild Park so that they will be ready to go in the spring. Despite the cool temperatures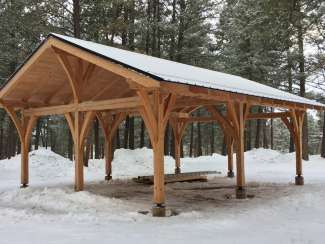 and snowfall, staff have been able to complete roofing and finishing work on the new family pavilion. The pavilion will feature picnic tables and an enhanced BBQ area, for mid-size gatherings (40-50 people).
The College of the Rockies continued their support of the project. The College built and installed the first pavilion timber frame structure, and has now completed a second timber frame structure to replace the fire fighters gazebo. The structure is now complete and will be relocated to the park this spring.
Tyee Log and Timber has just completed the installation of our feature pier. This 40' structure features a covered walkway and platform.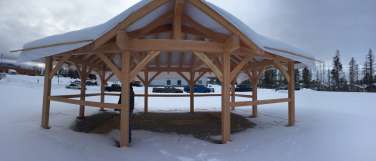 Work is continuing on the main washroom facilities on the north bench of the park. The two stall tank washrooms were completed in December and are operational.
Work completed in 2017 includes installation of two fishing docks (one donated by the Freshwater Fisheries Society of BC), paving of the trail on the south side of the lake, various habitat restoration work projects (in partnership with Columbia Outdoor School and Blue Lake Camp), removal of old playground, and archaeological assessment.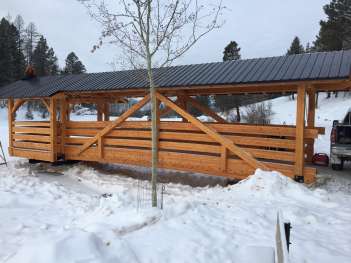 In addition to the current projects currently underway as identified above, the 2018 work plan will also see the replacement of playground equipment and zip line, additional trail upgrades, amenity enhancements (including BBQ areas, picnic tables etc), electrical upgrades, interpretive signage and additional habitat enhancements.
Photos courtesy Community Services.