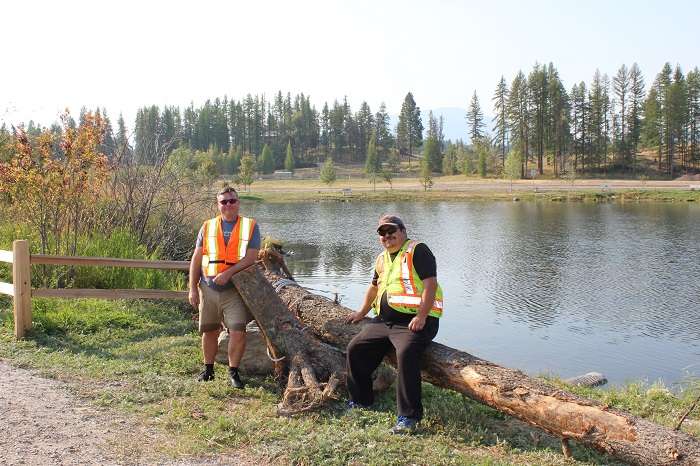 Left to Right: Todd Hebert, Columbia Outdoor School and Jim Clarricoates, Ktunaxa Nation. Photo by Columbia Outdoor School.

Cranbrook, BC (September 7, 2018) – As part of the Restore Joseph Creek Project, three new habitat structures were installed at Idlewild Park.
The structures were constructed out of natural wood and rock materials, assembled on shore and lifted by crane to rest partially in the water. This design will provide shelter for juvenile fish and basking opportunities for turtles.
The City of Cranbrook, Ktunaxa Nation, and Columbia Outdoor School collaborated to bring the project to life with support from Environment and Climate Change Canada funding programs.
"The habitat structures are a continuation of the Restore Joseph Creek Project work at Idlewild Park," said Todd Hebert, Executive Director of Columbia Outdoor School. "Several projects have been completed at Idlewild Park to date including enhancements to the existing wetland, invasive species removal, riparian area replanting, and ecosystem education programs for local students. Native species habitats have been enhanced through the installation of bat boxes, a birds of prey tower, an isolated floating island habitat, and now the fish habitat structures."
The Restore Joseph Creek Project is being coordinated by Columbia Outdoor School with the support of consortium partners including the City of Cranbrook, College of the Rockies, School District #5, the Ktunaxa Nation, ?Aq'am Community, and the Regional District of East Kootenay. In addition to the habitat and ecosystem improvements, several other City lead projects are funded in 2018-2019 that include channel restoration, flood risk assessment, flood mitigation and flow monitoring, as a part of the overall objective to improve the function and quality of the creek.
For more information visit the Restore Joseph Creek Project website at www.restorejosephcreek.com or call 250-426-3676.