Cranbrook, BC (October 4, 2019) -- The City of Cranbrook's 2019 Capital Works Program is wrapping up with the recent completion of the sewer re-lining project in the downtown area.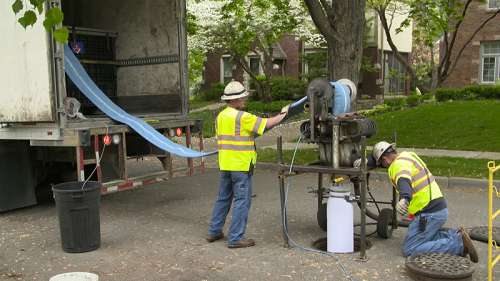 Using a relatively new process referred to as CIPP (cured in place pipe), the City's contractor Insituform Technologies Inc. used air pressure to blow a flexible resin filled liner down and through the old deteriorating clay tile pipe. Air pressure would then expand the liner against the inside of the pipe until the resin cures and hardens. The ends of the liner would be trimmed and any services into the pipe would be reopened using a pipe crawler outfitted with a specialized cutting tool.
There are important benefits of this trenchless rehabilitation. "First, the cost savings can be significant compared to conventional excavation and removal and replacement of existing pipe and road surface", says Mike Matejka, Manager of Infrastructure Planning & Delivery.
"Secondly, the process is around 10 times faster than conventional pipe replacement, which reduces the disruption to traffic and disruption to residents and businesses that are connected to the sewer and rely on the roadways for access."
Not all old pipe is suitable for relining, but when done properly it can fully renew the pipes lifespan up to 100 years. It also reduces the infiltration of groundwater into the sewer system through cracks and joints in the pipe, which in turn reduces downstream treatment and pumping costs.
Along with the sewer re-lining project, the City completed its six other major Capital projects before the end of September with an approximate value of $4,600,000. This included watermain replacements, storm sewer upgrades, new sidewalks, intersection safety upgrades, and road resurfacing work.
Proactive asset management, budget planning and implementation, and a project management framework focusing on efficiency and quality, all contributed to the success of the 2019 Capital Program.
Photo credit: Insituform Technologies Inc.