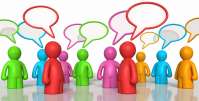 February 9, 2019 - Cranbrook is one of 10 communities in the Interior of BC awarded age-friendly grants to support seniors so they can live active, socially engaged and independent lives. The awards were announced February 1.
The Cranbrook Age-Friendly Committee was granted $15,000 in order to improve communication in each age-friendly area by building connections, strengthening programs, raising awareness and creating a sustainable age-friendly Cranbrook.

Click here to read the full announcement.
*With files from the Ministry of Health and Interior Health