Cranbrook, BC (October 28, 2020) – Contractors working with the City of Cranbrook will be conducting a water valve replacement project on Monday November 2, which will disrupt water service to several residences and businesses.

This project was originally scheduled to occur on Thursday October 29, 2020 but was postponed due to staff being needed on a watermain break repair elsewhere in the City.
The area being impacted includes from the intersection of 6th Street North and Kootenay Street beside Juniper Lanes to 14th Avenue North and 2nd Street North. The work is expected to be completed by end of day Monday.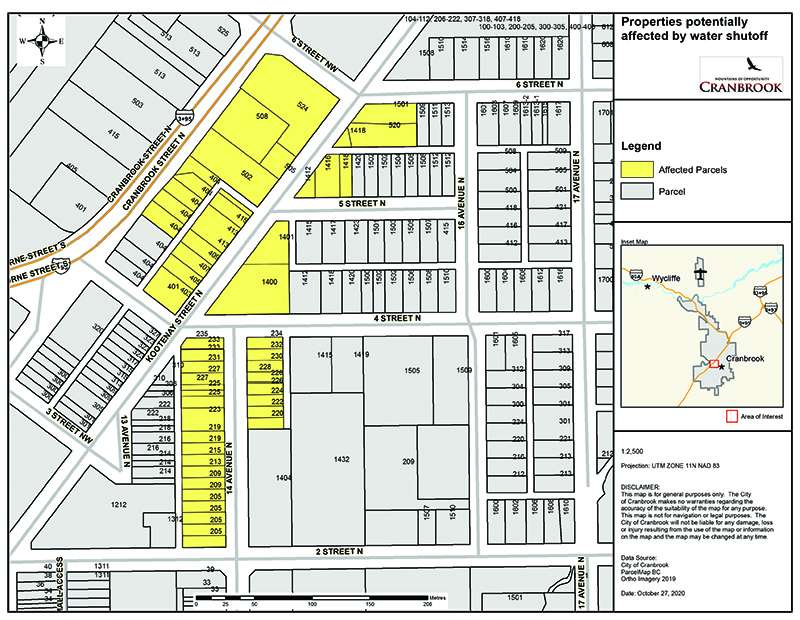 With this project, the street will be closed to all traffic for the duration of the day. Please watch for and obey all signage in place and any directions from flaggers or workers on site.

For water customers affected by this project, once water service is restored you may experience discoloured water. This is not considered a health concern. Please run your cold water taps until the water runs clear – generally after a few minutes.

The City of Cranbrook appreciates the patience and understanding of those residents and business owners affected by this important water system work. Every effort will be made to ensure water service is restored as quickly as possible.